Year 2009

Cine-Regio at the Asia Media Festival, Singapore 2009
In December, 2009, Cine-Regio and representatives from Film Arc went to Singapore to participate at the Asia Media Festival.




October 12-14,2009, second session of the DOCU REGIO 2009 workshop took place in Lille/Tourcoing, France.
The aim of this session was to acquire pitching techniques in plenary session and in small groups.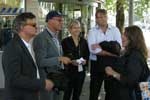 Cine-Regio Annual Regional Meeting, Lebewohlfabrik, Zürich 2009
September 28-29, 2009, the Annual Regional Meeting was held in Zürich, Switzerland. The meeting was used as a platform for knowledge-sharing and co-productions.
23 September, 2009, Cine-Regio visited Cartoon Forum in Stavanger, Norway. This is the region where the Cine-Regio member Filmkraft Rogaland is located. Filmkraft Rogaland took part in the conference "Animation in Norway", togther with several other norwegian film and TV organizations/associations. Talents from the fund were also involved in the making of a "Cartoon Forum trailer".

Kids-Regio Forum in Erfurt, Germany 2009
June 2009, the conference The Future of European Children's Film | 1st KIDS Regio Forum took place in Erfurt, Germany.

From 16 European countries authors, directors and producers as well as sales agents, distributors, TV representatives, funders and representatives of lobby groups, met and discussed possible synergies and strategies in order to improve the situation of the European children's film.


Animarco-Regio meeting at the Annecy Film Festival/Market, France 2009
10-12 June 2009, at the Annecy Film Festival/Market, another ANIMARCO-REGIO meeting was held. Subjects discussed were, for example; "the financial situation for animation funding in the European regions" and "possible barriers of co-production".
8-10 June 2009, The first session of DOCU REGIO 2009 took place in Hamburg,Germany. The aim of this session is to work on the projects selected.

Cine-Regio chairwoman 2009 Mrs.Katarina Krave, Film i Väst
May 2009. The General Assembly is held in Cannes, and Katarina Krave from Film i Väst, Sweden, is elected chairwoman.







March 2009. The 2nd ANIMARCO meeting took place during Cartoon Movie in Lyon, France. Collaboration between Cartoon organisation and Cine-Regio had led to an invitation to Cine-Regio members which have not previously attended Cartoon Movie. At the meeting the participants discussed how to improve the basis for valuable European co-productions, and the current situation on the animation sector in the different European countries/regions.


Cine-Regio Strategic Meeting, Landesvertretung Baden-Württemberg, Berlin 2009

CineRegio Strategic Meeting took place in Berlin, where the Cine-Regio Focus Report 2009: "Cultural, Social and Economic Impact of Regional Film Funds" , was presented.




Cine-Regio Board, Landesvertretung Saxony-Anhalt ,Berlin 2009

February 2009, The Cine Regio Board Meeting was held in Berlin.