Year 2006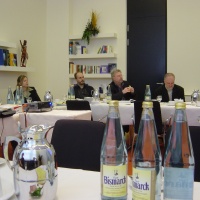 Berlinale meeting, February 2006
During the Berlinale meeting, February 2006, the report "European State Aid Regulations and Cine-Regio", prepared by Olsberg SPI, was presented and discussed.
On March 1st 2006, the Cine-Regio secretariat moved to Göteborg, Sweden, with support from the region of Västra Götaland, the home of the Cine-Regio member Film i Väst. Charlotte Appelgren was appointed Secretary-General of Cine-Regio.




Visit with the Cine-Regio member FilmCamp, Norway 2006
FilmCamp March 2006.
CineRegio was invited to speak in Norway, for the FilmCamp board and politicians from the region.
Pressrelease Cannes Film Festival 22 May 2006:
New secretariat in Gothenburg and new chairman

In May 2006, Cine-Regio became an official member of IFTC (International Council for Film Television and Audiovisual Communication). A non-governmental organization in formal associate relation with UNESCO.




The 2nd general assembly of Cine-Regio a.i.s.b.l. took place during the Cannes Film Festival, May 2006. Cine-Regio could welcome five new members: Filmförderung Hamburg and Nordrhein-Westfalen from Germany, the French Rhône-Alpes Cinema, Zürcher Filmstiftung from Switzerland, and the Swedish Film i Skåne. Also, Bengt Toll from the regional centre Film i Väst, Sweden, was elected new chairman of the board. In addition Cine-Regio co-hosted a cocktail reception, together with its member PACA (Région Provence-Alpes Côte d'Azur), in the French Pavillion.

July 2006, Cine-Regio's Action Plan 2006-2008 and new visual identity, incl. new logo and redesign of website was launched.

Cine-Regio Annual Regional Meeting, Trollhättan, Sweden 2006
In August 2006, Cine-Regio's annual regional meeting was held in Trollhättan, where Film i Väst resides, outside Göteborg, Sweden. Main topics were: Cine-Regio Action Plan 2006-2008 and presentation of co-production opportunities, incl. Docu-Regio Pitch Forum, RAICES co-production Fund, concepts for matchmaking of producers, networking and knowledge-sharing.
The second day of the Trollhättan stay was dedicated to "Trollhättan Talks", organized by Film i Väst in collaboration with Region of Västra Götaland and Cine-Regio. Over 250 industry people were gathered to discuss the new media landscape: What is happening to Cinema? Why are box offices dropping? How do we handle the piracy and illegal downloading? Screen International's Michael Gubbins moderated the seminar and speakers included, among others, American Brian Seth Hurst and Eamon Bowles.
Pressrelease Gothenburg 25 August 2006 :
European Film Executives at Trollhättan Talks
To encourage cross-border co-operation Cine-Regio organizes activities together with partners and is often invited to speak at conferences. Activities from August-December 2006 included among others:

• Aug. 21-22. New Nordic Films. Haugesund, Norway
• Aug. 24-25. Cine-Link Co-production Forum. Sarajevo
• Sept. 19. First European Media Conference. Bruxelles
• Sept. 28-29. Holland Film Meeting. Utrecht, Holland. Pitching sessions
• Oct. 3-5. XXL Forum, Pécs, Hungary. Set-up of regional film funds in Hungary
• Oct. 5-6. Seminar in Region Puglia, Italy. Regional policies for cinema and audiovisual
• Oct. 23-24. Stratcult conference. Linz, Austria
• Nov. 26. North Sea Committee's conference. Göteborg, Sweden
• Dec. 4-6. Baltic Event. Tallin, Estonia. Pitching sessions & panel on regional film funds
• Dec. 6-7. Film Konvent. Luleå, Sweden