Year 2017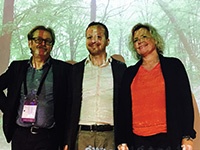 Ralf Ivarsson, Luca Ferrario and Anna Serner

The 4th of Oct, Green Policy Forum took place in Malmö, Sweden, focusing on Greening Film Production in Sweden & Europe. At the seminar, Charlotte Appelgren, General-Secretary, Cine-Regio, show-cased best practise examples (green actions & tools) from across Europe's regions. Environmentally friendly practices can be implemented in the workflow of any film or media production — as various projects in the 2017 Cine-Regio Green Report demonstrate. The seminar closed with a lively & interesting conversation with Swedish Film Institute's CEO Anna Serner on Greening Film Production in Sweden.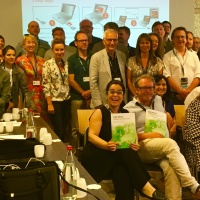 Members gathered at GA in Cannes.

Members of the Cine-Regio have backed 32 feature films and 4 shorts, which have been selected for the 70th edition of the Cannes Film Festival. The contribution of the regional film funds to this year's Cannes competitions has been extraordinary.

But General-Secretary of Cine-Regio, Charlotte Appelgren, warned that all these achievements are under threat because of the long-running push for a Digital Single Market. "It highlights the sad fact that the European Institutions do not understand the film financing eco-system", she says.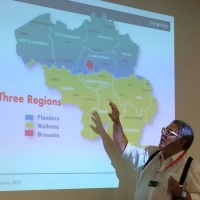 CineRegio welcomed three news members and a new board, at its General Assembly held on Monday 22nd May during Cannes Film Festival.

The three new members announced are: Région Grand Est (France); Mallorca Film Fund (Spain); and Filmfond Nord (Norway). They will take the total number of members to 44.

The CineRegio 2017 Green Report provide best practice among 12 regional film agencies across 12 topics. The aim of the report is to share environmental-friendly initiatives and it lists different examples of Green Guidelines, Training initiatives, Actions and Templates from Italy, Germany, Belgium and France.
The report also provides examples of free software that allows producers to establish the projected carbon footprint for the production. The report is edited by Greenshooting's Mrs. Birgit Heidsiek, Green Film Shooting, Hamburg.

Indeed the report is a good start for any organization or individual interested in getting inspired and contribute to Greening the Film Sector in Europe. It is a free download from CineRegio website.