Year 2011
December 2011 the Arc 1950 Coproduction Village 3-day long event opened. It presented 22 european coproductions and included one-to-one meetings and professional conferences. The event was organized in partnership with, amongst others, Cine-Regio.

Forum d'Avignon, France 2011
In November, 2011, Cine-Regio visited Forum d'Avignon - a think tank dedicated to culture. The Forum d'Avignon aims at strengthening the links between culture and the economy, suggesting subjects for reflection at a global, European and a local level.

Mrs. Farida Boudaoud/Rhône-Alpes Region, Mr. Alin Nica/Cult committee Rumania and Mr.Philippe Reynaert/Wallimage, Brussels 2011
23rd November, 2011, Cine-Regio had an Audition with the Committee of the Regions in Brussels. The intervention was named "Raising the cinema voice of the european regions".

Delegates from the conference "European Regions and the Cinema", Brussels 2011
22nd November, 2011 the Rhône-Alpes Region, the Association of the French Regions and Cine-Regio held, at the delegation of the Rhone-Alpes Region in Bruxelles, a conference entitled:
"European Regions and the cinema: what are the challenges facing tomorrow's Europe?"

Euromed Audiovisual III; Tunis 2011


November 14-15, 2011 the EU funded programme Euromed Audiovisual III organized a two-day conference in Tunis entitled "Towards a New Mediterranean Cinema?" Cine-Regio's General Secretary was invited as a speaker.
September 27, 2011 the 6th Cine-Regio Annual Regional Meeting took place in Aarhus, Denmark, hosted by West Danish Film Fund. Topics discussed included the need for public regional financing of cross media and presentation of a policy paper arguing for the interesting perspectives regarding cross-media. Also, a presentation was made on the EU interreg project FIRSTMOTION and the tool "Cluster Landscapes Handbook".

Mrs.Anke Küsel/First Motion, Mrs.Mette Elmgaard/Filmby Aarhus and Mrs.Anna J Ljungmark/BoostHbg, Germany 2011
A First Motion conference took place in Rendsburg, Germany. First Motion is a 3 year project for the Baltic Sea Region. There are 10 partners in 7 countries, incl. film funds, universities and national/regional developers/municipalities. The projects has four focus areas: Industry capacity building/market development, Institutional capacity building/policy development, Creative cluster/regional development, Education/training.
Two Cine-Regio members are partners in First Motion namely Film Fund Hamburg Schleswig-Holstein (who is lead partner) and FilmbyAarhus. Charlotte Appelgren is on the advisory-board of First Motion.

Docu Regio workshop, France 2011
In September, 2011 the final workshop for the Docu Regio 2011 edition took place in Lille/Tourcoing, France. At this stage, the projects have been re-written and presented in two pages. The aim of the second session is to acquire pitching techniques, in plenary sessions and in small groups.

Animarco-Regio at Annecy 2011
During the 2011 edition of Annecy Film Festival & MIFA in june, Cine-Regio held its 7th Animarco-Regio meeting, at which the participants among others discussed the financial situation for animation funding in the European regions and the general lack of broadcaster investment in European animation. At the meeting a joint declaration was prepared on the decline in TV stations investment in development & production of original content.

Mrs. Jo Nolan, Screen South, Cannes 2011
On May 18, 2011 the 6th CineRegio General Assembly took place in Cannes. New election procedure for the Cine-Regio board was introduced and Mrs. Jo Nolan coordinated the election.
Mrs. Susan Newman from the Strasbourg-based Observatory' made a presentation on Public Funding for film activities with special focus on regional film funds and members of Cine-Regio.
Other topics discussed included: the forthcoming review of the Cinema Communication; reports from sub-groups Animarco-Regio, Docu-Regio and Kids-Regio; Focus Report 2011 and activities during 2nd half of 2011.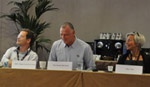 Mr. Vincent Leclercq, Mr. Søren Poulsen and Mrs. Katarina Krave, Cannes 2011
Three new Board members have been elected for the term May 2011-May 2013:
• Mr. Alberto Pasquale,FILAS / (Italy)
• Mrs. Katarina Krave,Film i Väst / (Sweden)
• Mr. Manfred Schmidt Mitteldeutsche Medienförderung / (Germany)

New chairman May 2011-May 2012
• Mr. Philippe Reynaert, Wallimage, (Belgium).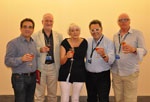 Mr. Luigi di Luca, Mr. Peter Zawrel, Mrs. Gabriele Röthemeyer, Mr. Philippe Reynaert and Mr. Jacques van Heijningen


May 2011. A historical moment - all 5 founding members of Cine-Regio gathered.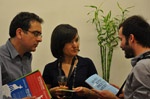 Representatives from Fondo Audiovisivo FVG and Apulia Film Fund, Cannes 2011
During April, 2011 we welcomed three new members into the Cine-Regio family:

• BLS - Südtirol Alto Adige, Italy,
• Fondo Audiovisivo Friuli Venezia Giulia, Italy and
• Film Agency for Wales, UK


In March 2011, a KIDS Regio forum and funders' meeting was held during BUFF:FF in Malmø. The Kids-Regio team are in the process of establishing a transnational scientific network – among others in order to carry out the comparative study of children's films in TV programmes in Germany, France, UK, Italy, Poland and Sweden.
Furthermore, the work continues on setting up a webplatform for professionals of the children's film industry.

Cartoon Movie, Lyon 2011
2-4 March, 2011 Cine-Regio attended the Cartoon Movie in Lyon, France. Cartoon Movie is a co-production forum for European animated feature films. For two days, producers had the opportunity to pitch their animation project in order to speed up financing, find cross-border partners and interest international distributors and sales agents.




3 March 2011. Animarco-Regio held a meeting in Lyon in connection with the
Cartoon Movie. The Animarco-regio is a subgroup of Cine-Regio for regions with
a specific interest in animation.

Richard Miller, Availabe Light Advisory, Berlin 2011
14th February, 2011 the Cine-Regio strategic meeting took place in Berlin, Germany.
At the meeting Mr. Richard Miller presented the Cine-Regio Focus Report 2011 - "Strategies to support the sustainability of film production companies". Furthermore, it was discussed whether the new Mediation and Arbitration scheme for Film and Media disputes could be an valuable and cost efficient opportunity for European co-productions.